Dear Nikhil Babu,
Thank you so much for the interest, which you have shown in the matter. Actually, the data, which I have sent to you, is from my Book –Ayodhya Tale—Netaji's Hidden Story.
I am yet to find any publisher.
The Minerva Publications agreed to publish it, but they needed full 1 year's time and, they would send the manuscript to London, wherein it would be finalised.
I was apprehensive, so I did not give them the manuscript. I am not after money from the book. But I wanted the World to know the truth - only, the raw truth. What hypocrites we, the people of India, are!
This book I have divided into 3 parts.
1st Part of the book deals with the findings of Qusar Hussain & Nirmal Nibedan & Ashok Tandon. I have met them personally. They have helped me.
2nd Part deals with the List of Goods, which were seized by the U.P.Government and are still lying in the Faizabad Treasury.
3rd Part deals with my personal findings, as of interviews of persons, who were close, photographs of places where He stayed. And the explanation of the circumstances.
The last part, there is a Question to the readers to decide for themselves.
I have also written / publisehd a Book—Paramhans Vani—this is the Spiritual / Contemporary Political sayings of my Sri Gurudev Sri Santh Samrath Tapas Bhagwan Ji ( Netaji is Previous form). I had the opportunity of getting DIKSHA ( Spiritual Initiations ) from him.
Another Book – Netaji - A War Criminal, Netaji's Vision of Today's India. This Book was already, published in Bangla, under the name of Bijan Ghosh, Advocate Supreme Court, one of my best friends in this issue. The Hindi / English version is under publication.
I have donated the amount gained from the Book to the Ashram. I have not even recovered the cost of printing etc. Just did it for the sake of my sentiment on this issue.
Now the main question. How did I join this movement?
I was a pure professional. I am trained in Laproscopic Surgery, Basics at NUH-Singapore, under Mr. Peter Goh. The Advanced Laproscopic Surgery, I was trained under Mr. Hans Troidl. The President of EAES, Germany.
I have the background of a typical middle class Bengali family. Although we did not have any direct link with W.B., we are faithful Bengalees.
My maternal Grand father was the late Jitendra Nath Sanyal - the brother of the late Sachindro Nath Sanyal. These people were well known in the history of freedom struggle of India. Netaji had in the past visited several times my Grand parents. So I had a looking for Netaji.
My Paternal Grand father was GM of TISCO in his time. When Netaji came to Jamadobah Colliery, he stayed at my (paternal) grand father's residence. Although I was born several years later, the fond stories of these incidents had put in my mind a firm impression regarding Netaji.
I, like any true professional, used to practice, here in Gorakhpur. Every Friday evening at 5.10 p.m., I used to take a train to Kanpur, reached there at around 23.45 p.m. After half an hour's rest I used to operate 2 cases of laproscopic surgery at the Madhuraj Hospital by 4.00 in the morning. Thereafter, I would go to bed. I would operate on three or four more patients the following day. Late on Saturday night I would take a train back to Gorakhpur to be ready for Monday's schedule. The time would pass like this. I never bothered for any thing else.
On 23rd Jan. 1997, on the Netaji Centenary Celebration, my wife had financed and organised a function at the local Bengali Club. She asked me to at least come and see what has been done. Incidentally, presently my wife is one of the leading Gynaecologists here!
I did not want to go to see the celebrations, as it would be a loss of valuable time. I went for the station, but the train was late for a couple of hours. Hesitantly I went to see what my wife had arranged for.
I was astonished. I saw several elderly persons there, who were full of spirit and zest. One man of around ninety years had walked about twenty kms to come to celebrate this occasion. This was a turning point. I thought, it was a mere waste of one's life to run about money and forgetting, why we were here. Nevertheless, I went to Kanpur after that.
On 27th Jan 97, after coming back from Kanpur, I was told, that Col. A.B.Singh, one of the Netaji's close associates, had given a photocopy of a letter addressed to him by Pradeep Bose. Pradeep Bose is Netaji's nephew. In that letter there was a reference of a Sadhu who had called both Pradeep and Sheila Bose (Pradeep's sister) to see him on 23rd Jan 97. Pradeep had refused to see the Sadhu.
In the background of my mind there was a story. A nephew of Netaji (son of Netaji's sister - Dolly) lived near us and we knew him for a long time. Sometime back, he too was called by some Sadhu to meet him in Nepal - who was said to be the Netaji. He too refused to see him even though Nepal is very close to here.
On 28th Jan, this photocopied letter reached me. By 4.00 p.m. that day, I finished my OT work and was free. It occurred to me that I should call Pradeep Bose to ask him to go and see the Sadhu. Pradeep was annoyed to receive my call. I thought he might be busy or sick. I didn't mind it.
Next day, i.e. on 29th Jan 97, in the evening I again telephoned Pradeep. He was furious. He abused me; I was upset too and returned fire. This rude behaviour of Pradeep touched my inner prestige. I thought I should see into the matter myself. I should know truth.
I had bought a new car. It had clocked only 400 kms. I took on the challenge and started my journey in search of the truth. One of my friends, Udayan Mukherjee, told me that his elder brother, Dileep Kumar Mukherjee, used to visit a Gumnami Baba, who was indeed Netaji. But his brother never told him anything about him, as he was under an oath.
I went to Mr. Dileep Mukherjee and asked him to tell me the truth. He said "OK, as he (Gumnami Baba) is no longer with us, I can possibly tell you. He was indeed Netaji. Samar Guha used to come to visit him but the Gumnami Baba had asked me not to see him (Samar Guha) as he was not a good person".
I felt that, I had just missed the boat. Just then I came to know about Mr. Anand Mitra Shastri. Netaji, in disguise, had come to see him. He had also visited Netaji in his present form. In 1—2 hours, I could find the residence of Shastriji. I did not know his address though I knew Shastriji was 80+. I asked him, if he could take me to Babaji, wherever his Asharm was. He promptly agreed, and became ready with a thermos of milk, as he did not take any thing else.
I did not tell my wife / family, where I was going. By this time it was around 7.30 in the evening. I went to a service station to get my tyres checked. I met Raju there. Raju was my assistant at Kanpur. He too started with me. By 2.00 am next morning, we reached a remote place called Gonda. From there I telephoned first Rudra Jyoti Bhattacharya - a friend of mine from Calcutta High Court and told him about my impending research on Netaji. He was thrilled. Thereafter I telephoned my wife. She was shocked. I told her not to worry, I should be back in a day or two.
After we reached Gonda, Shastriji lost track of the way. He said, that he had never travelled on road. He said he came only by train to Baba's Ashram the last of which was several years ago. We did not have any option but to wait until dawn. Some how, we managed to find a shonky hotel. We asked Jalil, my driver, to stay in the car and we took the rooms. It was very cold outside. We did not bring any warm clothes but that did not matter.
I was awake rest of the night. By daybreak, I asked Shastriji and Raju to wake up. We started our journey. Somehow, after asking people repeatedly we reached a place called Colonelgunj. Thereafter we crossed the Ghaghra River and reached a place called Ghaghra Ghat. We were very hungry at the time. We decided to have our breakfast at a roadside dhaba. There we met a bearded old man who told every inch about the road to Baba. We reached Mahmoodabad Awadh after crossing Fatehpur, Belhara. Finally, we came to a place named Thangaon. Here the tarred road came to an end. There was practically no road. From this point on, we travelled 12 kms on foot to reach the Ashram.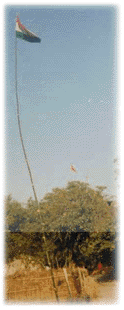 There in the front of us, fluttering about in the air, was the Flag of Azad Hind Fauj. I have the photograph. Then I saw a familiar face who was sitting behind the bamboo fence. There was Babaji, a Great Man, absolutely upright, sitting on a chair. The chair was similar to that used by our grand parents - one that had folding handles which you could unfold and rest your legs.
Vividh Bharati programme in Hindi — Jawano Ke Liye — was playing on in radio. The surrounding looked so curious! It was a place smack in the middle of absolutely nowhere – far from people, far from civilisation. One could hear nothing except a bunch of Ghoogoo were singing in the nearby forest. The radio was now playing Lalaji's Aye mere watan ke logo. A photograph of Pt.Chandra Shekhar Azad was nearby. After 2 more songs, there was an announcement for News in Hindi. Probably the time was 1.00 p.m. Then there was the announcement of the 5th Pay Commission Report.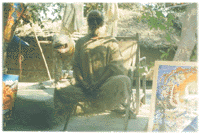 I could not believe my eyes. A lion of this motherland, who should be the hero of the heros, is forced to live like this. I told him that I am one of the grandsons of Jitendra Nath Sanyal. He seemed to immediately recognise who I was. With a heavenly smile on his face he asked me to sit down on the ground. A few persons, who had no clue as to his real identity or did not deliberately recognise who he really was, were sitting nearby. I couldn't help weeping. Tears rolled down by cheek. I guess I must have wept for an hour.
Babaji went inside his Marai, a hut made of grass. He gave me an old card with a message written on it and a photograph. I was wearing a leather jacket – but still was feeling cold. He had no clothes on and looked quite comfortable. We kept on sitting there. He went inside again and brought a Gari (dried coconut). He gave it to me and prompted us to go on our return journey.
We started back on foot. After we reached our car at Thangaon, Shastriji asked me to check what Baba had given me. To my surprise, it was a message for the contemporary society. It described what was going to happen and when he will return. All of that, of course, was in Alankar.

Feeling sleepy. Already 2.25am. Shall come to you tomorrow. I have many documents to prove.

Thanking you,
Yours sincerely,
Alokesh

P.S. I was trying to send this E mail right from 2.25. It's 2.35. I have dialled at least 12 times. Every time connection failed - I only get garbage! Probably He Does not want this at this monent. I shall try and send it later, when I am permitted. I'm not dreaming. It's the Truth!!
Back to Netajigate Index