Born into Brothels
A Story of Hope From Kolkata's Red Light District
Prostitution is one of the oldest professions in the world and the worst victims of this profession are the prostitute's children who are born with desires and dreams like any other children, but slowly get drowned into the dark world of abuse, despair and helplessness, infected with drugs, pimping, gang fight and other anti social activities.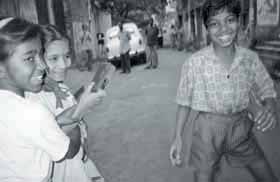 All of these children have a birthright to lead a normal and clean life like any other children. But it is not so easy if you are born into the brothel quarters of Kolkata's notorious red light district Sonagachi.
Director and photographer Zana Briski USA showed in this brilliant documentary showed how she fought with the social and bureaucratic system in Kolkata for the basic rights for these unfortunate children from Sonagachi.
To explore and better understand the lives of sex workers in Sonagachi, Ms Briski spent over three years in Kolkata with them and the children quickly befriended her. She quickly focused her attention on the forgotten urchins--ranging in age in the six to ten year old range—and used photography, first to connect with them and then to draw out their hidden passions and talent. She gave each of them a camera and taught them photography. She became their Zana Aunty – their tutor, mentor, and in the end their only hope of escape.
The movie, co directed with Ross Kaufmann, documents her work with these children.
Many of the kids did well with the camera, and even those who did not have the skill were able to produce familiar images that matched the environment. Transformation began when they saw what they were able to produce. Interviews with each of them showed that they all wished for an escape from the brothel neighbourhoods. The problem they faced was the entrenched fatalism that exists in their families. Some parents are waiting for the day when their daughters can join the trade—a fact spoken frankly by the girls themselves. Others are reluctant to allow their kids to go off to a boarding school because that means they will not be around to do housework and the family will lose an income.
Ms Briski tried her best to get them enrolled into schools which were not prepared to accept prostitute's children as their students. She approached missionary boarding schools where the bottleneck was the money. To raise funds for the children's schooling, she organised exhibitions of the their photographs in New York. The pictures that the children took during the three-year period were striking. The photographs were well appreciated and that opened the door for one of the kids to be invited to be part of children's jury at a World Press Photo Foundation photo exhibit in Amsterdam. And Ms Briski had to fight hard to get a passport for him.
The directors in no way tried to hide the "not normal" life in Sonagachi, including disturbing language, having no governmental support, facing tremendous bureaucracy to get anything changed even with Ms. Briski's help, and the lack of police investigation or protection as painfully brought to light when one child's mother was killed by a pimp in a so called "kitchen fire".
By doing this film, Ms Briski has drawn the attention to the society's obligation to do something for these children who, because of no fault of their own , are still being forced into a life of poverty, abuse and despair and that there is a need for doing something for them.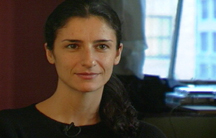 She has recently set up an organisation, Kids with Cameras, that sells their prints to raise money for them, with all profit going to them. Twelve of these prints were the ones chosen for the 2003 "Amnesty International" calendar .She has helped to get several of the children into good boarding schools.
Zana Briski, whose intimate involvement in this film and her selfless efforts deserve tremendous admiration. If there were few more people like her, the world would be a vastly better place for all of us. In this context it is very sad and disappointing to note the lack of government support to address this social issue. And it is a shame on the progressive government in Kolkata that someone has to come from as far as USA do something positive for the unfortunate children, while they turn a blind eye to it.
[ back]