Sydney Film Festival - Khamosh Pani
Silent Witness of the 1947 Partition of India and Pakistan
The story begins at Punjab village in Pakistan in a Bollywood style with romance, songs and dances, showing the colourful love affair between 18 year old Saleem and beautiful Zubedia. Young Saleem lives with her widowed mother Ayesha who still haunts the horrifying memories of the 1947 partition of undivided India and subsequent birth of Pakistan. Before partition, people from different religious communities - the Muslims and Sikhs lived happily in the area in peace. However the partition based on religion, changed their harmonious mind to a mind full of hatred and revenge that resulted in riots and killing of thousands of innocent people including women and children. And that memory still haunts Ayesha.
Everyone in the village knew that Saleem and Zubeida are going to get married and that was also the couple's plan, till arrival of two strangers from Lahore preaching revolutionary Islamic values. This happened at the same time when the political power in Pakistan changed hands with army chief General Zia taking charge.
The village's innocent daily life got changed with the two strangers gaining control over the young generation and influencing them into the strong belief of religious fundamentalism. Saleem was dragged into this by following his friend Amin and breaks off with liberal Zubeida.
Things get worse when the government allows Sikhs to return to their holy shrine in the village for worship. The villagers get their water from the village well, however Ayesha never goes to the well. A neighbour and her daughter kindly fetch the water from the well for her.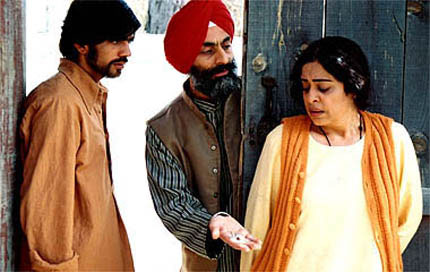 Khamosh Pani (Silent Water) tells the tragic tale of what the partition did to the women when men from different communities were fighting in the name of rights, honour and dignity.
It is an issue-based movie where the director Sabiha Sumar boldly attempts to show and address a diverse range of issues – role of women, a common person's view between fundamentalism and liberalism, religious pride or egoism and tragic consequences of partition.
Kiron Kher whom we have earlier seen in Bariwali - an award winning Rituparna Ghosh film performed brilliantly as Ayesha. Shilpa Shukla as Zubeida portrayed her role as village teenager with dreams and passion of a liberal life very well. Amir Ali Malik as Saleem was excellent too. The music was very soothing and appropriate.
Khamosh Pani in summary is a chillingly humane drama that will stay with you for a long time.
[ back]