Asha Bhosle Joins Kronos Quartet for Sydney Concert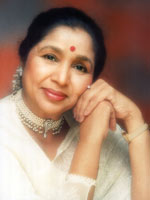 Asha Bhosle is a name that needs no introduction to an Indian. She is a megastar of Indian music of all times and shares with her sister, the legendary Lata Mangeshkar, the top position of Bollywood play back music. She has been singing since 1948 and has over 12000 recordings to her credit. Her melodious love songs or the lusty cabaret numbers, the heart rending ghazals or the rocky pops have enthralled the audience for over five decades.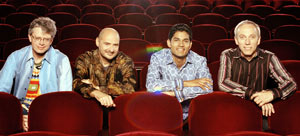 Kronos Quartet is a string quartet founded in 1973 by violinist David Harrington and currently includes John Sherba on violin, Hank Dutt on viola and Jeffrey Zeigler on cello. They are one of the most celebrated musical talents of our time, performing thousands of concerts worldwide and releasing more that forty albums of extraordinary breadth and creativity. They have demolished traditional barriers, winning simultaneous respect from international music critics such as "Rolling Stone" for their attitude and "Gramophone" for their musicianship.
A life time opportunity for Sydneysiders, Asha Bhosle will join Kronos Quartet live on stage on Friday 9 March 2007 in the main concert hall of Sydney Opera House to present the musical event of the year that will intrigue the audience with a unique fusion East and West that you may not have heard before.
They have dedicated that evening as a tribute to their favourite composer Rahul Dev Burman, who had provided unforgettable music for over 300 Bollywood films.
David Harrington has a great admiration for Burman's musical ingenuity which inspired him to create an album in 2005 with Asha Bhosle singing some of his memorable compositions with his quartet. It is called You've Stolen My Heart which was nominated for a Grammy Award . It features popular numbers such as Dum Maro Dam, Mehebooba Mehebooba, Mere Kuch Sanam, Piya to Ab to Aa Ja, Rishte Bate Hai and the title song Chura Liya Hai Tum Ne .The album includes two Bengali songs -Ekta Deshlai Kathi Jalao and Nadir Pare Uthlo Dhoan- as Asha's extraordinary singling talent was also exposed in various other Indian languages.
The program staring at 8 pm will be presented in two halves – the first half for about forty minutes is dedicated for the Kronos Quartet, while after a short interval it will be Ashaji with the quartet singing to everyone's heart content. There is a bonus too - as a very special appearance, Wu Man the renowned American Chinese pipa ( Chinese lute) player, who was one of the musicians of You've Stolen My Heart album, will join the quartet to add extra flavour to the occasion.
Opulent and exuberant, the combination of the Kronos Quartet, Wu Man and Asha Bhosle will be a revelation for fans of the familiar sounds of Bollywood and lovers of the intricacies of the western music.
This program is being organised by Sydney Opera House. For tickets call 02 92507777 and visit their website www.sydneyoperahouse.com for more information
[ back]