Sydney Film Festival 2006
The 53rd Sydney Film Festival is Australia's most prestigious film event, showcasing the best in film from Australia and around the world. This year's festival takes place 9-25 June 2006 with screenings of over 180 features, documentaries and shorts at the State Theatre, Dendy Opera Quays and George Street cinemas.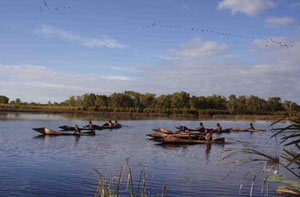 The Opening Night gala will take place on Friday 9 June at Sydney's State Theatre with a gala screening of Australian film Ten Canoes which is a comic aboriginal drama shot in an indigenous language.
Lynden Barber, Artistic Director of the Sydney Film Festival comments: "We are absolutely thrilled to have such an exciting and distinctively Australian film open the festival. It is fitting that such a beautifully poetic and richly layered film will make its international debut in Cannes, before returning to enchant audiences at the Sydney Film Festival."
This year's festival program was formally launched at function on 11 May at the foyer of the State Theatre to a gathering of media personalities and sponsors.
Merely a coincidence, but the festival this year coincides with the World Cup Soccer in Germany. As a tribute there will be three films on soccer which includes The Great Match from Spain and Once in a Life Time from USA. However the festival directorate has ensured that screening of film from countries do not clash with their world cup matches.
Yes there will be films from many of the World Cup playing nations – Argentina, Brazil, Italy, France, England, Spain, Japan and our favourite Australia
The films selected this year reflect different moods of human life. Some will terrify, others will make you laugh and there will be some to debate.
Some of the films to watch are United 93 from USA based on 9/11 hijack drama, Ahlaam,a drama triggered by the bombing of an mental hospital in Iraq, Solo an Australian crime thriller, romantic tale In Bed from Chile and Fearless from Hong Kong. Two documentaries I suggest - The Last Days of Yasser Arafat and God on My Side where Andrew Denton takes on America's religious broadcasters. Paper and Sun as a 17 minute Australian short film portraying the life of two Afghan refugees in Sydney is also worth considering.
This year again there is unfortunately no entry from India. It is very disappointing for the Indian community and raises the question of why Sydney Film Festival is failing to attract film makers from the country that produces the largest numbers of films in the world. One reason, according to internationally acclaimed Indian film director Budhadev Das Gupta it could be the non competitive status of the festival .
For more information visit www.sydneyfilmfestival.org
[ back]