Sania Mirza
The Tennis Genius Yet To Be Bloomed
Sania Mirza the 19 year old tennis sensation from India is a princess of the court, sharing beauty and glamour in similar lines with Maria Sharaprova, Martina Hingis and Anna Kournikova. She was recently in Sydney, playing for the 2006 Medibank International tournament with a prize pool of $6000000.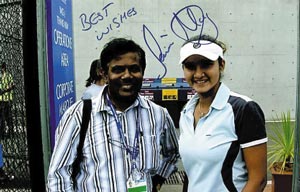 Currently ranked 34 in the world circuit, she lost her first round centre court battle to Daniela Hantuchova ranked 17, but clearly exhibited her strong grasp of the game by winning convincingly the second set. She played brilliantly all along taking 4-2 lead in the first set, but unforced errors and in my opinion the lack of that "killer instinct" which in modern day and age sets the difference between winner and the loser, cost her the three set match.
After the match, I had the opportunity of a personal interview with her. I was surprised to see that the loss did not break her spirits at all, rather I found confidence in her to do better for the Australian Open where in addition to the singles, she intends to participate in the womens and mixed doubles as well.
She was born in Mumbai to family where cricket rather than tennis was the central sports. Her father played cricket at the local level , but her grandfather Ghulam Ahmed played test cricket for India and captained the team in 1958. Sania naturally loves cricket and like many her favourite is Sachin Tendulkar who was present at her nineteenth birthday last year in Hyderabad which is her home city now. That is why she loves Hyderabadi biriyani, though Chinese cuisine is her favourite.When asked about her celebrity status in India she stated that like any other person she enjoys that glamour ,but always makes sure that tennis is the most important feature of her life and nothing can stand between her and her tennis.
She recently completed a three-week training programme with renowned coach Tony Roche in Sydney who recently coached men's world number one Roger Federer . Sania said during the interview that special emphasis during the training was given to improve her volley and service .She is all prepared for the tough 2006 season where a lot would be expected from her. Her goal for 2006 as a minimum is to maintain her current ranking for entry into grand slam tournaments. She enjoys playing with the world's best and feels motivated to perform because of her love for the game and its competitive spirit.
She started playing since age of 6 and marked her step into the world of professional tennis in her early teens. However it was here in the Australian Open in January 2005 her breadth taking rise started when as a wild card entry with a ranking above 200, she reached third round and lost finally to the eventual champion Serena Williams. She went one step ahead in the US Open going upto fourth round and then losing to the top seed Maria Sharaprova.In February last year she became the first Indian woman to win a WTA singles title by defeating Alyona Bondarenko of Ukraine in the Hyderabad Finals. She is also a credible doubles player and have few colourful feathers stuck to her cap already. In 2003, she became the first Indian girl to win a Junior grand slam title by winning the Girls Doubles title at the Wimbledon. Then she bagged the bronze medal at the Busan Asian Games partnering with Leander Paes. She is young and pretty, she is smiling and bubbly, she is vibrant and fit and above all she is India's best ever female tennis player of all times. When asked if Bollywood interests her she said yes only to watch the movies, but not to act in them as tennis is her life and that's only where her heart and soul aligns. She still has a long way to go and the journey is not easy. She is still in the bud and yet to be bloomed.
[ back]