Arundhati Roy Wins the Sydney Peace Prize
Novelist and human rights campaigner Arundhati Roy was recently in Sydney to receive the prestigious 2004 Sydney Peace Prize, which was presented to her on 4 November by the Governor of NSW, Her Excellency Professor Marie Bashir at a black tie dinner function in the McLaurin Hall, University of Sydney. The previous evening she delivered the Sydney Peace Prize Lecture titled "Peace and the New Corporate Liberation Theology" to a packed audience at the Seymour Centre.
She said at the lecture - "There can be no real peace without justice and without resistance there will be no justice"
She believes that total peace cannot be achieved without justice. And justice is under attack today. That is why her writings campaign justice for people who are suffering as a result of political egoism and hypocrisy, nuclear warfare, communal violence, caste system, capital globalisation by corporate giants and dam projects making millions of people homeless.
Sydney Peace Prize, which has a global significance in terms of the support and recognition given to the leaders for peace, has also been the centre of creating controversy and disharmony. In 2003 this prize was awarded to Dr. Hanan Ashrawi, a prominent senior member of the Palestine Liberation Organization. We remember it drew heated opposition from some sections of the community.
Arundhati Roy is no stranger to controversy. This time, she created controversial debate by comparing the Aborigines in Australia to the Untouchables or Dalits in India who are still in many cases deprived of social equity.
However commenting on the selection of Ms Roy for the 2004 Sydney Peace Prize, Professor Stuart Rees, the Director of Peace Foundation said, "Arundhati Roy is a distinguished world citizen. She was chosen for her opposition to the violence of poverty in India and for her commitment to the global cause of peace with justice. As a writer she challenges the world".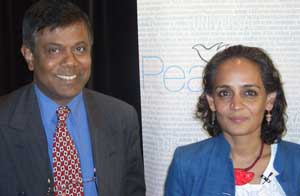 She was born in 1959 in Assam in India to a Hindu Bengali father and a Christian Keralite mother. Her father was tea planter in Assam, but Arundhati grew up in Aymanam, a village in Kerala where her mother Mary Roy ran an informal school Corpus Christie .It was there, where Arundhati developed her initial literary and intellectual abilities, not bounded by the set rules of formal education.
She left home at the early age of 16 to negotiate with the world on her own. She became an architect from the prestigious Delhi School of Architecture, but never had the passion to practise it. Instead of architecture she got in to films. She played the role of a rural girl in a film called "Massey Saab" and wrote scripts for films such as "Electric Moon" and "In Which Annie Gives It To Those Ones". However she quit the film industry, after her controversial writing on the film "Bandit Queen" where she criticised the film maker Shekar Kapoor for misrepresenting and exploiting the role and character of Phoolan Devi, the bandit turned Member of Parliament from Central India. The controversy escalated into a court case.
That event may be considered as a blessing in disguise for her life, because after that she focussed more on her writing. After three years of isolation she stormed back with her first novel "The God of Small Things" which created history for her.
Set in the 1960s, "The God of Small Things" is about two children, the Estha and Rahel, and the shocking consequences of a pivotal event in their young lives, the accidental death-by-drowning of a visiting English cousin. In magical and poetic language, the novel paints a vivid picture of life in a small rural Indian town, the thoughts and feelings of the two small children, and the complexity and hypocrisy of the adults in their world.
The novel became an international best seller, and in October 1997 won the coveted Booker Prize.
"The God of Small Things" not only rewarded Arundhati with the 1997 Booker Prize, international fame and money, but also brought her into limelight again with controversy and criticism. There was criticism in England about her selection for the Booker Prize. In India, the communist state government in Kerala was not happy with the roles of the three communist characters portrayed in the novel. There was also a public interest petition filed, alleging the novel was obscene.
However, Arundhati is a fearless writer. She is not afraid of criticisms and controversy. She writes on issues that disturbs and concerns her a human being, irrespective of its consequences. After the success of "The God of Small Things" she did not write another novel, but in keeping with her long term interest in social issues, she has immersed herself in human causes such as the anti nuclear movement and the Narmada Bachao Andolan which is to save millions of rural people from the dam projects in India. She has a strong voice against the corporate giants on how they generate unimaginable profits by manoeuvering political situations and exploiting the human society, mainly the poor. This was a key part of her Sydney Peace Prize lecture.
The Sydney Peace Prize Jury's citation on their 2004 selection read "Arundhati Roy has been recognised in her campaigns for human rights, and for her advocacy of non violence as expressed in her demands for justice for the poor, for the victims of communal violence, for the millions displaced by the Narmada Dam projects and by her opposition to nuclear weapons."
In response she stated that she accepts it as literary prize that honours a writer for her writing. She said –" I am not an activist, nor the leader of any mass movement". But her pen is mightier than sword. She has extended her support to the socially boycotted, poverty stricken, under privileged people, not only in India but anywhere she has come across them. That is why she pledged to donate her $50000 Sydney Peace Prize money for the indigenous Australian people in the same way she gave away her 1.5 million rupees Booker prize money to save millions of people from the dam projects in India. She is truly in pursue of global peace and very determined to raise her voice against any issue or event that are threat to peace and justice.
[ back]