If Bengalees are not best known for their physical might (although Bankim Chandra Chatterjee, drawing on the vast array of historical episodes of Bengali bravery, refuted this notion without a shred of doubt), they surely are an intellectually enlightened bunch with keen appreciation for the arts and cultural activities.

Bengali arts cover all forms of artistic endeavours - music, theatre, dramatic arts, literature, painting, sculpture and other forms of fine arts. By no means, are the creative talents restricted within the boundaries of the Tagore family although Abanindranath Tagore and Rabindranath Tagore played a major role in defining the parameters of what constituted Indian artisictic traditions.

Pottery, brass and copperware, embroidery, tapestry, hand looms, fine muslin and silk artistry, wood carving, cane works etc. are a few examples of handicrafts which originated at the ground level in the heartland of Bengal - the villages. The artisans derived not only artistic enjoyment out of their creations, they were able to earn a modest living from their 'cottage industry' that once formed the backbone of the rural economy.

The advent of modern large-scale productivity methods and output has crushed a large part of the handicraft industry of the rural society of today and displaced a large number of traditional craftsmen (and craftswomen) who are now either unemployed or thankfully engaged as 'factory wrokers'. The age-old skills and family traditions are becoming nothing more than a reluctant part of the modern history.

Net resources on Bengali arts are few and far between. We are on the lookout. We will add as many links to available resources on this subject as we can lay our hands on and in that process we ask for your assistance in providing us with link information as you're aware of.

Paintings

The Masters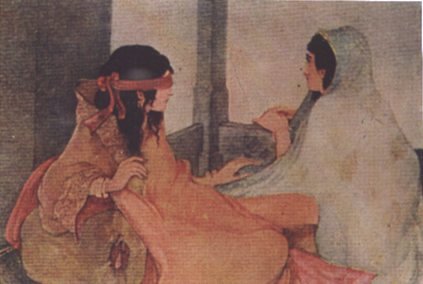 The Sacrifice of Gandhari
Nandolal Bose
One of the typical creations of Jamini Ray


Contemporary




Pottery & Handicrafts










Leather Bags, Tapestry to Legendary Kantha Stitches




Performing & Fine Arts



Music, Theatrical Performances to Film Making




Cooking & Storytelling



Cooking


The Essence of Life Collection

A collection of handicrafts made by the economically impoverished skilled artisans from Bengal. These items cover a wide range of handicrafts made from paper, jute, leather, plaster of paris and clay. The items are exported by Lokenath Exports.

Disclaimer

As a matter of its community obligations, Bengal Online and SiteMarvel have decided to disseminate these items for greater publicity. Neither Bengal Online nor will SiteMarvel benefit from sale of these products or artefacts. This free community announcement is made in good faith that the proceeds will benefit the people who produce these items.

All sales enquiries are to be directed to:
Mrs. Sukla Banerjee
Lokenath Exports
22B/1C Dharmatala Road
Bosepukur, Kasba
Calcutta 700-042
Tel. 91-33-3444081
Fax. 91-33-4408656


The Handicrafts

The items cover a wide variety from teracotta dolls to musical instruments. Leather Shantinikatani purses, handbags, bangles, candle and incense stands, ashtrays, lamps, bedroom slippers, wall hangings, decorative statuettes, jute and paper bags, shopping bags, chiffon thread jewelry etc. We have looked at the prices and they appear attractive.

Here are a few sample exhibits. Please support the good cause!